Boosting YouTube Watch Time / YouTube Analytics
As the last day of May approaches, I'm trying to figure out how to make extra money and boost my YouTube watch time and analytics. To do this, I need to understand my subject-matter, audience, and how to convey the love-worthiness of things. I'm also exploring the criss-crossing elements of success and how to teach a narcissist. Join me on my journey to figure out the answers.
Exploring How to Make Extra Money and Improve YouTube Analytics on the Last Day of May
By Michael Levin
Tuesday, May 31, 2022
Last day of May. It's March that comes in like a Lion. I got that so wrong on the videos. Just forge forward relentlessly. Also, show the nice people your YouTube metrics and your figuring out your next step. Don't pander, but YouTube probably is my best prospect on having the supplementary income I require for going from $1500/mo rent to $2200/mo. Can you believe it? And that's not even for living in Manhattan. That's the suburban outer borough of Staten Island! Shit, I've got to tighten my belt and hunt.
Continue doing a kick-ass job "at the office". Everything you do for your online presence and personal skills must also apply directly to doing a better job at work. The money I make at the "real" job is critical. I cannot sustain going unemployed for the stretch of time you're supposed to be able to. And so do great work. That's so important.
Okay, so work on boosting YouTube watch time. This is my current analytics: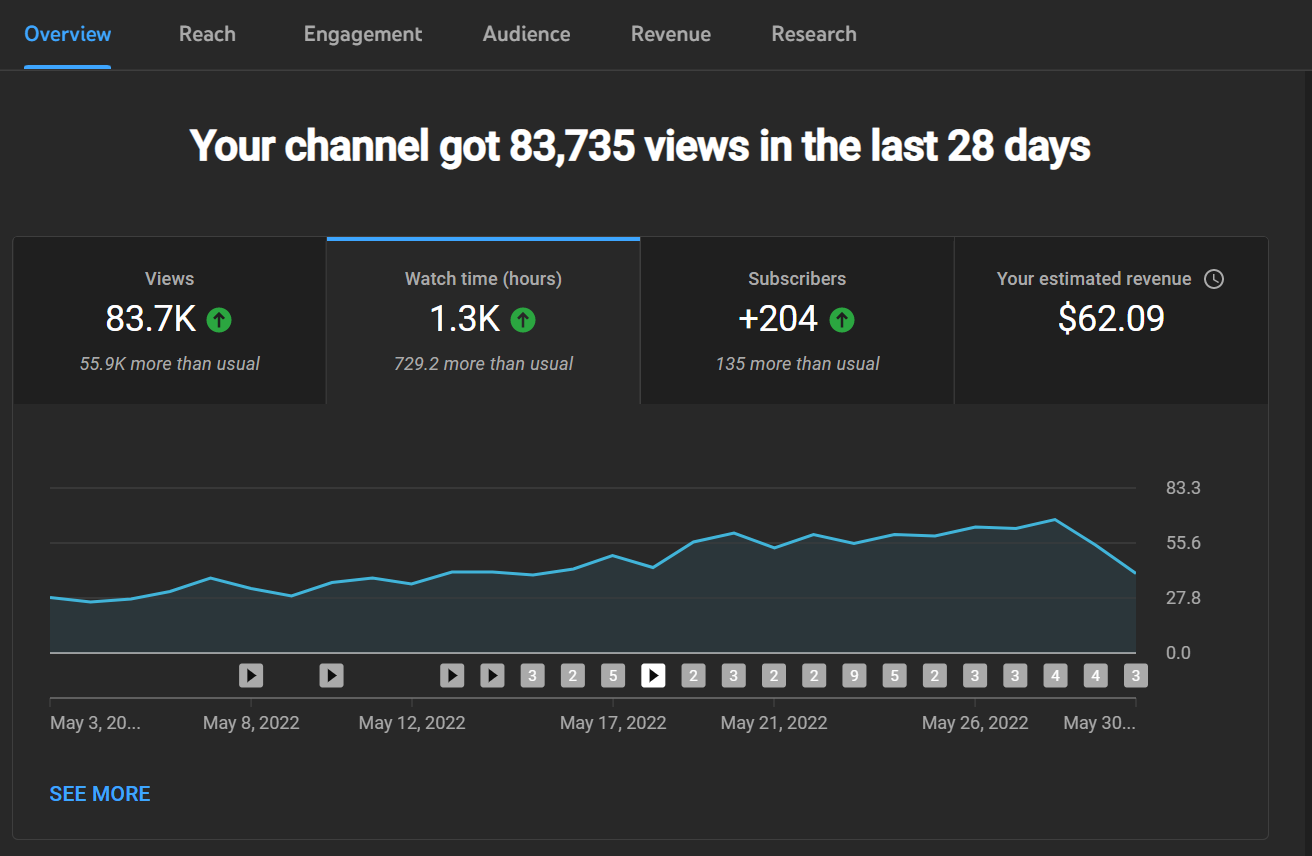 So the question is, how to do that without compromise? How to do that while helping yourself in your day-job?
How do you find your subject-matter

How do you ensure the choice of keywords (good title)
How do you distribute it over multiple videos
How do you cross-link it with other media

How do you find your audience

How do you engage newcomers
How do you retain return visitors
How do you surprise, entertain and delight

How do you learn simultaneously with teaching

How can you show someone how to do something if you barely know yourself?
How can you make such content improve over time
How can you make more polished "extractions" for the impatient
How can you teach your child the parts they'd like of it as you go

How do you convey the love-worthiness of things

How do you infuse the love of math, truth and things like it
How can you get over the triggering limits of language
How can you make the inaccessible accessible

How do you know your efforts are going to be successful

Look at what has already been successful
Figure out important elements of why it was successful
Figure out multiple criss-crossing elements of success
Add those multiple criss-crossing elements as you go
Don't defer the cross-linking, transcribing, etc. Do it now!

You Can't Teach A Narcissist / The Narcissist At Microsoft

The budding narcissist at the Catskills colony
Categories